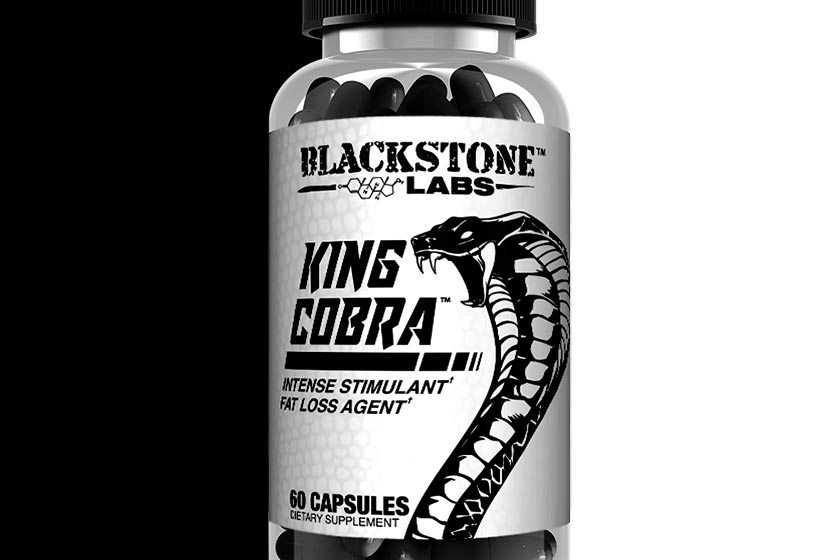 THE PROMISE
Blackstone Labs is back and it is back with a vengeance. The company mostly known for its hardcore origins is back to its core promise. King Cobra is the newest member of the DMAA enhanced products the company is now bringing back into the market on the heels of its closer co-operation with Hi-Tech Pharmaceuticals. Lets take a quick look at the formula here and dissect what you should expect from it.
THE LABEL FOR DUMMIES
Thrixanthin Complex – 375mg  this blend brings in 6 different ingredients with 4 of them being fairly common (caffeine, Green Tea Extract, Theoborma, Theobormaine). The unique additions here are:

Ilex guayusa – The new age green tea – native to the Amazon Rainforest, Guayusa is one of three known caffeinated holly trees (yeah, holly…). For centuries the natives of the rain forest dried and then brewed the leaves of the guayusa tree for their stimulative effect. We don't know the exact quantity here but we could assume it is around 50mg.
Theophylline – Naturally found in cocoa beans. And is used in therapy for respiratory diseases. Beyond being a brochodialator it has been shown to increase heart muscle contractility and efficiency. We are not sure what exactly stands behind adding this ingredient into the mix, but you should be able to breath better..:)

Eria Jarensis – 150mg – Eria Jarensis Extract or in its scarier name: N-Phenethyl Dimethylamine, provides powerful mood boosting effects mainly due to its ability to increase levels of Dopamine and Noradrenaline in the body. Wait, but you said that King Cobra is DMAA based! Just wait people…
Triple Heat Thermo Intensifier – 100mg – Paradoxine (grains of paradise), Capsimax capscium, and BioPerine black pepper – Grains of Paradise is a spice similar to ginger, and is an effective stimulant-free fat burning ingredient and becoming more popular in fat burners. Add to that the Casimax and black pepper…phew!
Erythropalum Scandens Ethanolic Extract – 50mg –
DMAA – 45mg – need we say more??
Citrus Aurantium Extract – 42.5mg – aka Bitter Orange – Bitter orange peel is also used to improve appetite, and, in surprising contrast, it is also used for weight loss
Yohimbe Extract – 22.5mg – Yohimbe works by increasing adrenaline in the body, and by inhibiting a process in fat cells, which normally suppresses fat burning. And yes, It is also a general stimulant.
The Label's Bottom Line
OH MAN! THIS IS GOING TO BURN!! Guys, this is by far the most intense label we have seen and we do believe it is the first product to include both DMAA & DMHA & Yohimbe & Caffeine in the same formula and all in large quantities. Not to mention the other exotic ingredients. Actually, each and every one of these ingredients is so powerful by itself that we would recommend to be really cautious about initial dosages until you figure out if you can handle it!
BLACKSTONE LABS KING COBRA Price & Deals
King Cobra is listed at $54.99 in 60 capsules (which if you take the maximum dose of 2 a day will last you a month). Yes, this is on the high end (20 higher than the best selling Lipodrene) but frankly, if you can handle it then this is going to be worth it. Obviously the best way to save on King Cobra or any other supplement, is to compare prices from around the web on Fitness Deal News and to keep on checking our site , as we continue to hunt down the best deals.
The Takeaway
The guys at Blackstone Labs, just uppped the anti again. Just a second after we thought Hi-Tech went a bit insane with the Coca based 'Lipodrene Elite', comes Blackstone Labs King Cobra and pushed the envelope. For me personally, the energy & mood improvements were substantial and the appetite suppression very noticeable. We will leave you with one (SERIOUS) thought though, a lot of the ingredients in this monster of a fat burner, so how will they interact between themselves and your body is going to be something you'll need to exprience. But if you can take it, the KING COBRA will deliver!
---
---
SEE THE HOTTEST FAT BURNERS DEALS FROM AROUND THE WEB!
---