Best Home Gym Deals – Why Now!?
Guys, I get it, with the craziness of the Corona Virus spreading, some of the gyms are closing down, or even if they are not, you are concerned they will be. And as a gym addict, you want to make sure you are ready! I have been fortunate enough over the last 5 years to have built a comprehensive home gym that has literally everything I need (see picture below). But I do understand that in some cases you might not have the budget or the space for all of this…so I decided to write this post and give you a few options based on your budget & space
The Starter Package
Well, to be honest, this package is actually perfect and to a large extent can get you everything you need to keep in shape. All you need here is a set of adjustable dumbbells and a bench and you are good to go!
I have the Bowflex 1090 which go between 5LB and 90LB which are amazing. Super high quality and durable. If you are a woman or a beginner lifter you might be ok with the Bowflex 552 which go up to 50LB each. Yeah, these are not super cheap, but I have had them now for 4 years and they are worth every penny! Your best option for getting these is on Amazon or Walmart for the best price and dodge shipping costs!
I do recommend you get the stand, it is worth it. Yes you could use a table, or just put them on the floor, but personally I am super happy I got the stand.
Ok, but what about a bench!? Yes, you are right, I actually recommend you grab the Bowflex bench while at it! You can't really go wrong here. There are a few options (3.1; 5.1; 5.1s) ranging from $139 to $299. The main difference between these are the amount of 'positions' you can choose. I personally have the 5.1 but I don't think you can go wrong with the 3.1 to be honest!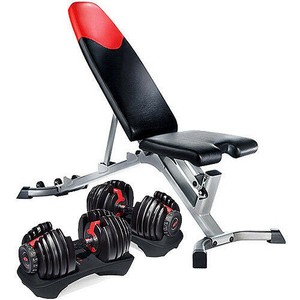 Overall, the full package with the 1090, 5.1 bench and the stand should land at around $1050 and free shipping on Amazon or Walmart or $899 for the same package with the 3.1 bench. 
The Go Big & Stay Home Package
Say, you have more space, and you want to get the full gym experience. Yeah, I am talking cable crossovers, bench pressing squatting and everything else? Well, in this case, your best option (and the one I have for the last 3 years) is the Fitness Reality 810XLT Super Max Power Cage. At a starting price of $231, and an optional LAT Pull-Down Attachment and Adjustable Leg Hold-Down that will bring your total to $449 you are getting seriously serious :).
They also have a bench + rack combo going for $345 which you can add the Lat attachment to for a total of $575! 
Now, what about the plates and bar you ask? Well, I have the 300LB Cap Barbel set from Amazon which you can get for about $350 shipped.This set includes ONE 7-foot solid black Olympic bar, TWO 45-pound plates, TWO 35-pound plates, TWO 25-pound plates, TWO 10-pound plates, FOUR 5-pound plates, TWO 2.5 pound plates, and TWO spring clip collars.
And of course, you'll need a stand for these weights (unless you plan to carry them all the time…), I suggest you go basic here and grab the one I have from Fitness Reality (yeah, the same brand as the rack) which goes for as low as $90. You can take a look here.
Now, if you are looking to complete the picture with a set of accessories, I suggest you take a look at the different options in these packages here which range between $30-$110 depending on what you are looking for.
Summary
Just to be clear, I actually have both setups in my home gym. The dumbbells, rack, bench and even a thread mill, a leg press and more. But if you are just looking for a back up plan, you don't have to go all out like I did.