Apollon Nutrition TimeCop Review [V2 Update]
Apollon Nutrition have just released their TimeCop Nootropic Pre Workout. This supplement is the combination of Hooligan Bare Knuckle and Overtime. This obviously means that the ingredient label is going to be extremely long, so get ready.
In this TimeCop Review, you will find out everything you need to know. From the experience, ingredients, side effects, and more!
Where can I buy TimeCop Pre Workout?
You can get TIMECOP V2 at Supps Central & save 20% OFF when you use code FDN20
COMPARE PRICES FOR
Apollon Nutrition TIMECOP V2 Pre-Workout

20% OFF!
TimeCop Pre Workout Reviews on YouTube [V2]
STRONGER THAN EVER 😱 TIMECOP Pre-Workout V2 | Apollon Nutrition
My Experience with Apollon Nutrition TimeCop V2
Flavor-wise, TimeCop is nothing special. Tiger's Blood is the same one they used for Assassin V7 and it is decent. But if you care about flavor, then that is whole other issue.
The experience though was amazing. Apollon Nutrition may very well have created the best nootropic pre workout of 2023.
Shortly after taking a full scoop, I felt the nootropic effects coming in. The focus is top notch. Which makes it usable for the gym, studies, or work.
The energy is also off the charts. At 400mg of caffeine anhydrous and a bunch of other stimulants like Lion's Mane and Eria Jarensis, this baby makes you fly.
Unlike most nootropic pre workouts, this one has heavy doses of pump ingredients such as L-Citrulline. So TimeCop truly is not lacking in any area. Not to mention the Beta Alanine tingling that gives you an overall buzz.
With the addition of Noopept, the already nootropic benefits are skyrocketed. Making for an awesome workout.
All in all, TimeCop from Apollon Nutrition is a really great nootropic if you want something that brings the heat on energy, focus, and pumps.
Pros
Awesome Nootropic Effects
Energy Boost
Great Focus
Skin-Tearing Pumps
Cons
Flavors are not the best
Expensive…
COMPARE PRICES FOR
Assassin Pre-Workout

20% OFF!!
What is in Apollon Nutrition TimeCop?
As mentioned before, Apollon Nutrition TimeCop is a combination of ingredients from their Hooligan Bare Knuckle and Overtime V4.
Unlike Double Impact, TimeCop has a somewhat normal-sized ingredient list. Essentially because they only took aa select set of ingredients from each product this time.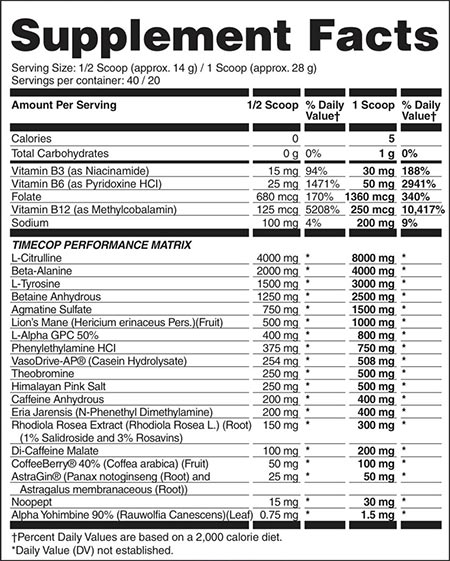 Key Ingredients Breakdown
Caffeine Anhydrous (400mg)
First you have caffeine anhydrous. The infamous energy stimulant that is in every supplement nowadays. 400mg is up there with the most you will see in most pre workouts
L-Citrulline (8g)
Secondly, L-Citrulline comes in at a whopping 8 grams. This is the highest I have ever seen this ingredient be dosed at. Leading to a massive pump and increased vascularity.
Beta Alanine (4g)
Paired with the L-Citrulline, Beta Alanine is an ingredient I love. This provides the tingling that gives you that buzz throughout your body.
Lion's Mane (1g)
One gram of Lion's Mane is going to add immensely to the focus matrix. Locked in all the way during the gym session.
Eria Jarensis Extract (400mg)
Next there is Eria Jarensis which is becoming an extremely popular ingredient. This is the main contributor to the focus and slight mood elevation in TimeCop.
Alpha GPC (800mg)
Then we have Alpha GPC which is one the many focus ingredients in TimeCop Pre Workout. 600mg is a really nice dose.
Himalayan Pink Salt (300mg)
Himalayan Pink Salt adds to the pre-existing pumps you get from the hefty 8 grams of L-Citrulline.
Noopept (30mg)
Almost closing out the list, noopept is yet another focus contributor. You cannot go wrong with adding 30mg.
Alpha Yohimbine (1.5mg)
A hardcore stimulant in TimeCop Nootropic. Alpha Yohimbine is going to add to the thermogenesis as well as intensity.
AstraGin (50mg)
Lastly, 50mg of AstraGin is going to help with the absorption in TimeCop. Making the intake process much smoother.
Frequently Asked Questions
What is the difference between TIMECOP V1 and V2
Most of the ingredients stayed the same between V2 and V1. The main changes are: Hordenine was removed and beta-alanine increased to 4g, Eria jarensis increased to 400 from 300mg, 50% more tyrosine, and the focus-supporting alpha-GPC now at a higher 800mg from the original's 600mg.
Is Apollon Nutrition TimeCop a good pre workout?
TimeCop is a great nootropic pre workout. The only downside is the price because it is a limited edition.
What is Apollon Nutrition TimeCop made of?
TimeCop Pre Workout is two of the brands' products combined. It has a long list of ingredients including Lion's Mane and Eria Jarensis.
Does TimeCop have any side effects?
TimeCop does not have any side effects. Only chance of experiencing any negative effects if you are a true beginner.
COMPARE PRICES FOR
Apollon Nutrition TIMECOP V2 Pre-Workout

20% OFF!
Related Reviews
A frontrunner for the best DMAA pre workout of 2020, Crack Pre Workout rose to the top with 120 mg DMAA.  Similarly, the Dark Labs pre workout dials you in for the whole of your gym session and the pumps are insane.
You've been WARNED ⚠️ Dark Labs CRACK Pre Workout Review
Excelsior has become a somewhat staple in the pre workout game. Known for its tunnel vision focus and enhanced energy. If you like hardcore pre workouts, you would want to get your hands on this.
OH MY GOD 😮 Excelsior Pre Workout Review [Imperial Nutrition]
Assassin Pre Workout Review v7
Lastly, one of my absolute favorite pre workouts of all time, Assassin is a super hard-hitter. While it does not have DMAA or any other ingredients us Stim Junkies love, this pre workout is one of the most well-made pre workouts I have ever tried.
The Good Old Days 😱Assassin Pre Workout Review [V7] | Apollon Nutrition