The Promise
In what is probably the last product Rich Piana had personal involvement with, the newest product in the 5% Nutrition line just hit the shelves. Rich Piana's Drink Sleep Grow is the company's new nighttime recovery formula. Drink Sleep Grow joins Knocked The F*ck Out in the brand's night time supplements, but they each bring a different twist to the game. Knocked The F*ck Out is for sure more focused on putting you to sleep, where,  Drink Sleep Grow, is focused on night time recovery and muscle building. The bottom line is that these 2 products are supposed to be stacked together.
COMPARE PRICES FOR
Rich Piana 5% Nutrition Drink Sleep Grow
What's in it and why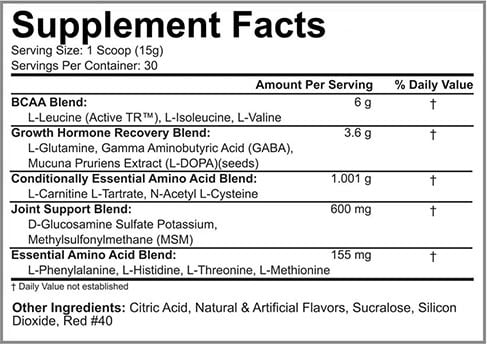 As you can see from the label here, 5% Nutrition chose to go with a semi transparent blend approach which is obviously going to make it harder for us to dissect exactly what's in it. With that said, we plan to do the best we can! So let's dive into the 5 proprietary blends in Drink, Sleep Grow.
BCAA Blend:  at 6 grams, this blend is obviously targeted at recovery.
Growth Hormone Recovery Blend: 3.6g blend of glutamine to help with muscle recovery, GABA and mucuna pruriens to help with growth hormone.
Conditionally Essential Amino Blend: 1 gram of L-carnitine tartrate & n-acetyl cysteine – these two amino acids should help with muscle recovery.
Essential Amino Blend: 155mg of L-phenylalanine, histidine, threonine, and methionine – at this amount it is not clear if this blend can have any positive effect.
Joint Support Blend: 600mg combination of glucosamine and MSM. Probably the most interesting part of Drink, Sleep Grow is this blend of the popular joint support formula which should assist in joint recovery.
The Label's Bottom Line
Not a ton of innovation in the Drink, Sleep Grow formula. Yet, it carries all the right ingredients you'd like to see in a recovery formula. I am not sure though what specifically makes it a 'night time' product, rather than just a recovery product.
Drink, Sleep Grow Best Flavors
The product launched in two flavors – Lemon Lime and Watermelon
Drink, Sleep Grow Price & Deals
The new 5% Nutrition Drink Sleep Grow is currently sold for $33.95 for 30 servings.  Obviously, you should always compare prices on our price comparison engine and sign up to the Fitness Deal News deal alerts, making sure you always know when the next Drink Sleep Grow deal is out there.
The Verdict
As stated above, I am not sure what exactly makes this product a night time supplement. So, we are reviewing it as a recovery product (take it whenever you want…). The main thing we liked about Rich Piana's Drink Sleep Grow is the addition of a joint support formula to a run of the mill recovery formula. This is a cool touch and will earn this product some points in the eyes of a lot of lifters. Other than that, there's no earth shattering news coming out of this product, but it does present a decent alternative for recovery for 5% Nutrition fans.
COMPARE PRICES FOR
Rich Piana 5% Nutrition Drink Sleep Grow